#67 What Sup Dummy

Posted by Michael on 20 October 2006 in Magazines, Graphic Design, Publishing

Sometimes, it seems as though no sooner has one genre of magazine died a messy death than a new version springs up in it's place a year or few down the track. For us UK indie dinosaurs, many of us mourned the passing of Lime Lizard, Select and Melody Maker and it's ilk (and many more felt compelled to express their sadness at the recent 're-invention' of the NME). Of course, the Indie Music magazine never went away… it was just having a snooze.
---
I'd like to say it's back! 'Back!', you hear. But that's seems a little grandiose a statement for this new breed of 'quiet achievers'. Enter Dummy, 'Sup, Spex, Artrocker, OK Fred… they are cropping up all over the place.



Dummy [dummymag.com]
The first issue of Dummy looked more fashion mag than music zine, with loads of lush full page commissioned photography that seemed to over shadow the writing. After a brief disappearence Dummy came back with a sharper look thanks to current i-D art director, Dean Langley, that bought the bands and the writing into focus. It's a stripped back and slightly retro look that seems to directly reference the underground fanzine idea and is already bleeding out into other magazines such as…
---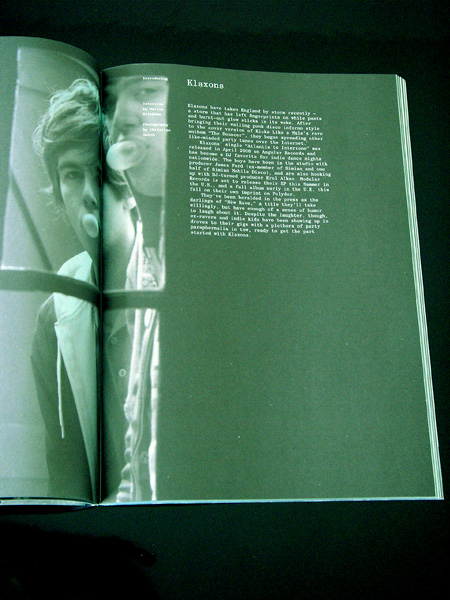 'Sup Magazine [supmag.com]
'Sup Magazine is free but you can't tell by looking at it. Mostly, one colour throughout (with the rare burst of colour), the choice of coloured stock and minimal variation in fonts lends it an air of authority music magazines have been lacking for some time (apart from the always excellent 'The Wire' [NMCA Link], of course). 'Sup seem to follow a similar notion of keeping the design to a minimum and showcasing the music and writing.

---
For now this all seems totally fresh and interesting (and lord knows Artrocker could only improve with a bit less 'ornamentation') but I wonder how long before indie fans crave a bit of colour and craziness. See what you think.